Ken Norian's Web Home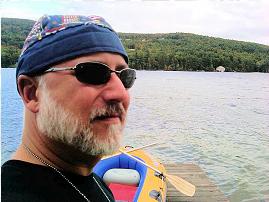 Hi, my name is Ken E Norian. I live on Long Island, NY where I was born and raised.

Professionally, I work as a Customer Success Manger, Key Strategic Accounts for Refinitiv (formerly the Financial and Risk business of Thomson Reuters) in Times Square, New York City . I have a BBA and an MBA from Adelphi University.

Personally, I have three boys in their thirties . One is in the Carpenter's Union, one is a flight attendant, and the other is a US Navy submarine veteran who is working in aerospace engineering for Gulfstream.

I've done a lot of interesting things - people are usually most curious about the 20 years that I worked in radio as a newscaster, engineer, disc jockey, and account executive. I closed my radio career as General Manager of WBAU in Garden City, NY. While I've worked in nearly every aspect of radio, my passion has been acoustic and acoustically influenced music. Now I am busy focusing on my technology related hobbies, volunteer activities, family and my full time work at Refinitiv. There is a significant spiritual dimension in my life. I am a member of the Third Order of the Society of Saint Francis a religious order in the Episcopal Church for people living and working in secular society, where I have served as Minister Provincial for the Americas and as Minister General for the five provinces around the world.

Some folks who come upon the norian.org domain are looking to find some history regarding the Norian family. I'm afraid I can't offer too much. My grandfather immigrated from Armenia in the early 1900s. When the family arrived, the name was spelled Noroian, and within a few years was changed to Norian. He was from the village of Perri. So, if you are a Norian or Noroian who has relatives from Perri in Armenia, we're probably cousins. I know of some other Norians who do not seem to be related but….. who knows!
Find me on:





If you've stumbled across this page, and you know me from somewhere in the past or want to contact me, use the email address below.

He who is not busy being born is busy dying.... Bob Dylan